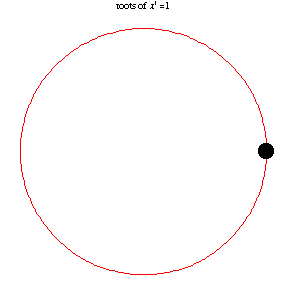 This animated gif illustrates de Moivre's Theorem applied to the number 1. Each successive image shows the roots of one plotted on a unit circle in the complex plane. Image credit: Root of Unity -- from Wolfram MathWorld
Pre-calculus is the study of functions and relations, linear functions, exponential and logarithmic functions, power, polynomial and rational functions, trigonometric functions, polar functions, and parametric functions as a preparation for the study of calculus. The introductory calculus topics of limits, continuity, rate of change, derivatives and integrals are presented. Activities and instruction emphasize the Rule of Four (analytic, graphical, numerical, and verbal) approach to understanding and applying the topics and techniques of this course.
Click on the link below for current class information, assignments, pictures from class activities, and selected notes from class.
Current Information Updated 11 March 2016
California has not defined standards for Pre-Calculus. Our course, however, meets the State's standards for Trigonometry, Linear Algebra, and Mathematical Analysis. Click here to see how our course is aligned with these standards.
Links to Pre-calculus Resources: